Frequently Asked Question
1. Where are you located and how to buy your RGB LED lights?
We are a leading LED light manufacturer located in Guangdong, China. Our official website is www.geramled.com. You can easily buy our LED lights no matter where you are. Firstly, please send us an inquiry to tell us your requirement on our website or through email, whatsapp, skype, etc. Then we will send you feedback with our proposal, products and quotation. You will be requested to send us the payment after our deal. And when the payment comes we will arrange the production and send you the goods by air or by sea.
2. What is DMX or DMX512?
DMX is short for "Digital Multiplex", we can simplely understand it as a digital protocol. Nowadays, normally DMX is refered to DMX512(support maximum 512 channels, one color each channel), you can learn its more information on wikipedia: https://en.wikipedia.org/wiki/DMX512. Our light can show many different color effects by working with DMX512, we need to use an external DMX controller and add hardware parts to the lights. The program is held in the controller and the signal will be sent to the lights to generate different colors or effects. Our RGB flood light support universal DMX512 controller as long as it supports standard DMX512 protocol. You can buy the controller from us or in your local market.
3. Can I use your RGB flood light without DMX function?
Yes, sure. DMX is just an option for our RGB flood lights. You can use our lights as normal RGB flood lights without DMX function.
4. How to use your DMX controller?
Our normal DMX controller has built-in SD card, it can run the programs in the SD card. On the other hand, our controller can be also controlled by a PC software, by using this software, you can program the controller in real time. We also have a controller which works with a mobile phone app, you can contact us for more information.
5. Can I use my own controller or buy it in my local market?
Yes, you can certainly use your own controller or buy it from your local companies. Our DMX flood lights support universal DMX controllers as long as they support standard DMX512 protocol. We suggest you to buy the controller in your market if it is possible, because it is more convenient for your local companies to teach you how to use their controllers.
6. How to install the whole DMX system?
Based on the solution, we have three kinds of installations for our DMX system. Wired installation, wireless installation and compatible installation.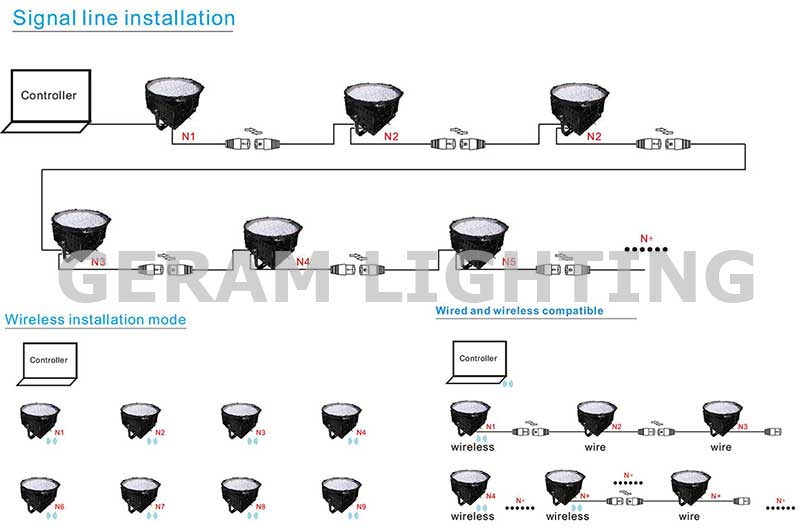 7. What's the maximum number of lights can be connected to one controller?
It will depend on the distance between the light fixtures and the controller. Normally if the total length of the DMX cables of all lights over 100 meters, we need to a an amplifier.
8. Can you make wireless solution?
Yes, we can make wireless solution. We will add an extra DMX wireless transmitter for the controller and add a wireless receiver for each light. By using this solution, you don't need to do the jobs of DMX cables layout. But before using this system, please make sure there are no very big buildings or other obstacles in your application.
9. For wireless solution, what's the maximum distance can I install the light fixture?
According to our current testing data, the maximum radiation distance of our wirelss signal is 300-500 meters.
10. What's the lifespan of your products?
The lifespan of our LED lights can reach 50,000 hours in theory. But the actual lifespan will be influenced by the actual environment temperature, humidity and the using habit of the end user. According to our experience, our LED lights can be used from 6 to 10 years or more.
11. How many years of warranty you provide and what are your terms of warranty policy?
Normally we provide 3 or 5 yrs warranty. During the warranty period, we will send you new products or new parts for replacement if there are any failures. You can come to us whenever you meet any problems.
12. What's your payment term and how can I make the payment?
Normally our payment term is T/T 30% deposit and balance before shipment. For small amount (such as less than 500 USD) you can pay via Paypal, Western Union or MoneyGram. But for large  amount, we will accept bank transfer. We accept different kinds of currency including USD, Euro, GBP, RMB, HKD, YEN, etc.
13. What's your delivery time and the way of shipment?
Normally the delivery time of our sample is 4-7 days and normal order is 10-20 days depending on the actual quantity of your order. We will arrange the shipment by air express(door to door), normal air freight(to your local airport), sea freight(to your local seaport) or some special shipping ways with duties according to the actual situation.
14. I still have other questions ...
If you still have other questions about our company or LED light products, please contact us directly, you will get our response in a short time.
GERAM ELECTRIC LIMITED
Email: jerry@geramled.com
WhatsApp/Wechat: +8618011802260
Skype: jerrygeram